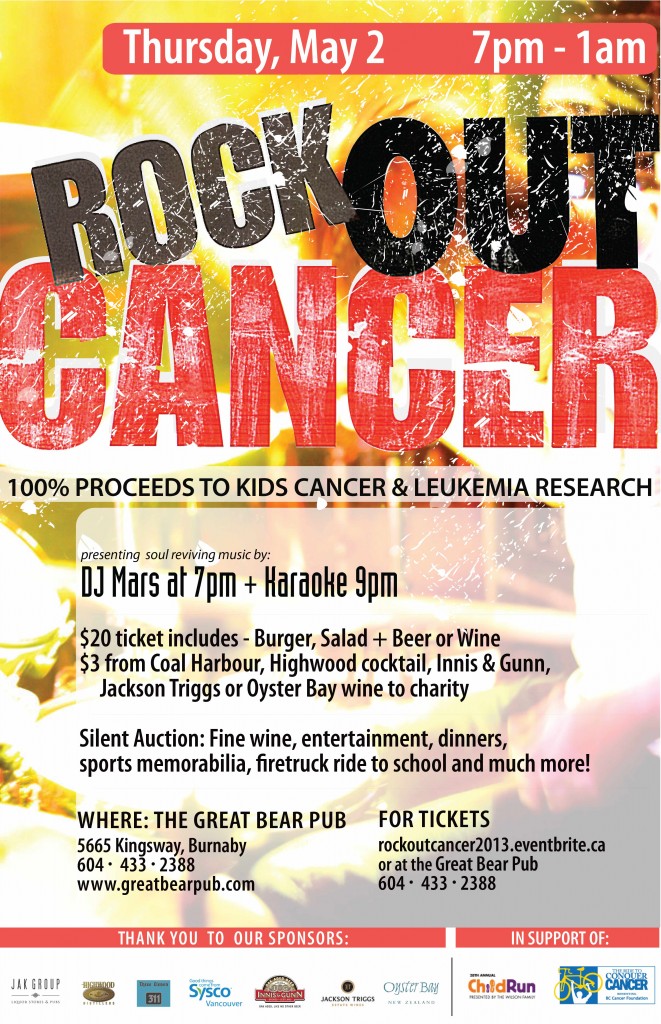 On October 24, 2011 Ivy Sweet was diagnosed with Acute Lymphoblastic Leukemia at the age of 3 and a half. Rock Out Cancer is an annual event presented by Ivy's family to raise funds for childhood cancer research. They have organized a team for the upcoming BC Children's Hospital ChildRun on Sunday, June 2nd, and are inviting you to join them at this amazing fundraising event on Thursday, May 2nd from 7pm to 1am at Great Bear Pub in Burnaby!
This fabulous evening includes a delicious dinner, drinks, music and a chance to bid on auction items from fine wine, entertainment, dinners, sports memorabilia and much more! Soul reviving music will be provided by DJ Mars and $3 from every Coal Harbour Beer & Highbury Cocktails will be donated to charity.
This year we are joined by fundraisers Genevieve Dear (Ivy's aunt) and dear friend Kyla Decker who will be doing the Ride to Conquer Cancer raising funds for leukemia research in Ivy's honour on June 15 & 16.
To donate an auction item to either cause, please contact Charlene (charlene.kettlewell@gmail.com) or Genevieve (gendear1978@gmail.com).
Tickets to the event – which include a burger, salad & one drink – are available HERE, with 100% of the proceeds being donated to children's cancers and leukemia research. Hope to see you on the 2nd!