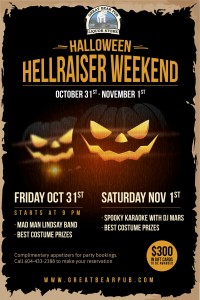 Have you got Burnaby's best halloween costume? The Great Bear is awarding $300 in gift cards  for the best creative costumes over the weekend.

 Entertainment:

    Friday October 31 – Mad Man Lindsay band
    Saturday November 1 – Dj Mars and Spooky Karaoke

  The Great Bear is supplying complimentary appetizers for party bookings of 6 or more. 

  Please call 604-464-3030 to make reservations and get your party set up.